This is a guest post from Chris Brantner of CutCableToday.com.
Sports fans are able to enjoy multiple playoffs and a fresh new baseball season in April. It wasn't long ago that fans were forced to have cable to watch their favorite sports. These days, the exact opposite is true. With the right streaming services, you'll be able to watch your favorite sports and won't be subjected to another unnecessary, overpriced cable bill.

Beyond the Masters tournament, the three big sporting events of April are the return of Major League Baseball, the NHL playoffs and the NBA playoffs. If you're a cord cutter, you can watch these events with the various streaming services outlined below.
Major League Baseball is underway
Baseball starts around the country in April. Everyone that loves baseball is hopeful for their team and ready to see them play some ball. If you're ready to watch your favorite teams but don't have cable, there are plenty of options to do it.
DIRECTV NOW: With DIRECTV NOW, packages start at $35 and include a minimum of 60 channels. You'll have access to some local channels, regional FOX Sports Channels, FS1, TBS, MLB Network and multiple ESPN channels. In short, you have just about everything you could need to watch baseball. Most streaming devices work with DIRECTV NOW, though Roku is not yet supported. A free, one-week trial to check out the service is available!
Sling TV: Sling TV's $25/month package offers more than 40 channels. You'll have ESPN, TBS, FS1, FS2, FOX (in select markets) and many other channels. ESPN and TBS both regularly air games, so that's a definite plus. FS1 and FOX also air plenty of games throughout the year. You can stream Sling TV on a wide variety of devices, including Xbox One and mobile devices. Like other streaming services, a one-week trial is available.
PlayStation Vue: PS Vue packages start at $30/month and include at least 45 channels. They offer a variety of ESPN channels, TBS, FOX (in select cities) and FS1. Plenty of other channels are included, as is the ability to add additional sports channels. Vue works on Roku, iOS, Chromecast and other devices. A five-day trial is available.
fuboTV: With fuboTV, the basic package is $35/month. One of the cool features here is the cloud-based DVR that will allow you to record games! Channels included are FS1 and FS2, NBCSN, regional FOX Sports and CSN channels, and numerous other channels. You receive a seven-day free trial at the start of your membership.
The NHL Playoffs run two months
It's finally time for the Stanley Cup playoffs. If you're a sports fan, you shouldn't have to miss a minute of the action. Here are some of the best ways to stream the playoffs.
DIRECTV NOW: If you order the "Just Right" package for $50/month, you'll have access to NBC (in select markets), CNBC, NBCSN and USA. These are four must-have networks when watching the Stanley Cup playoffs. If you upgrade to the "Go Big" package, you'll also have access to NHL Network!
Sling TV: Choose Sling TV Blue ($25/month) to watch NBCSN, USA and NBC (select markets or on-demand). You can also add the Sports Extra bundle to add NHL Network and several other sports channels.
PS Vue: It's just $30 to get NBC (select areas), NBCSN, CNBC and USA. On the downside, PlayStation doesn't offer NHL Network. On the plus side, it does have a cloud-based DVR so you can record the games you aren't home to watch. Also keep in mind, you can use your Vue credentials to log into the NBC Sports app which will get you a stream of the NBC matchups.
fuboTV: fuboTV also has the cloud-based DVR offering, and it offers the four main channels you'll need to watch the playoffs (NBC, CNBC, USA and NBCSN). Like Vue, you won't have access to NHL Network here, but the four networks mentioned will allow you to stream most games. fuboTV costs $35/month after the free trial.
NBA Playoffs are about to begin
March Madness has ended, and now it's time for the NBA playoffs. There are a few ways that you can watch basketball online. Keep in mind, the NBA Playoffs will go through June.
DIRECTV NOW: The starter package that is $35/month offers ESPN, ESPN2, TNT and some local channels like ABC in select areas. If you want NBA TV, that's available in other packages. You can stream the content using many devices, but Roku access is unavailable. Make sure to sign up for the free trial to watch some basketball for free.
Sling TV: All you need this time around is the $20 basic channel. This will give you access to ESPN, ESPN2 and ESPN3. Having ESPN3 gives you online access to the ABC games. You'll also have TNT. If you want NBA TV and ESPNews, you can add them in the sports package an additional $5.
PlayStation Vue: Vue has access to all the channels that you need to watch every NBA game this season. Packages start at $30/month and you'll have a cloud-based DVR so you can record the games you would otherwise miss.
As you can see, barring a few exceptions, most of these streaming services allow you to watch all the best sports action not only this April, but all year long!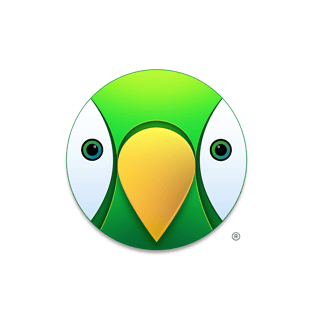 Pro Tip: How to mirror the stream to Apple TV or Chromecast
Download AirParrot 2 on your Mac or PC if you are watching the game on your computer. AirParrot will allow you to wirelessly mirror the live broadcast from your computer directly to an Apple TV or Chromecast.
Use your Sling TV, DirecTV NOW, PlayStation Vue or fuboTV account in the Chrome or Firefox browser to stream the event. Then open the AirParrot software and select your browser as the "From" option. Select your Apple TV or Chromecast as the "To" option. This will allow you to experience all the action on the big screen.
The image below was taken from the AirParrot menu and shows you how to do this. You simply select your browser or application, then select where to send it.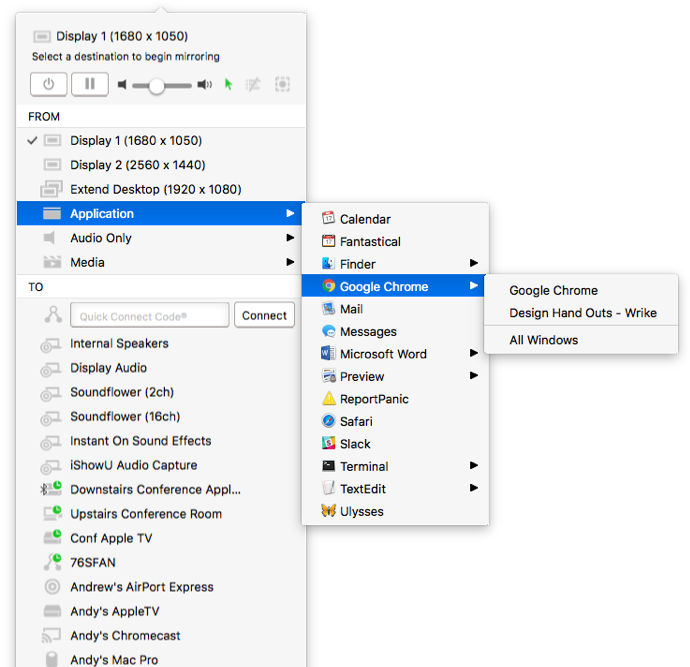 Learn more about the AirParrot 2 desktop mirroring/streaming app.