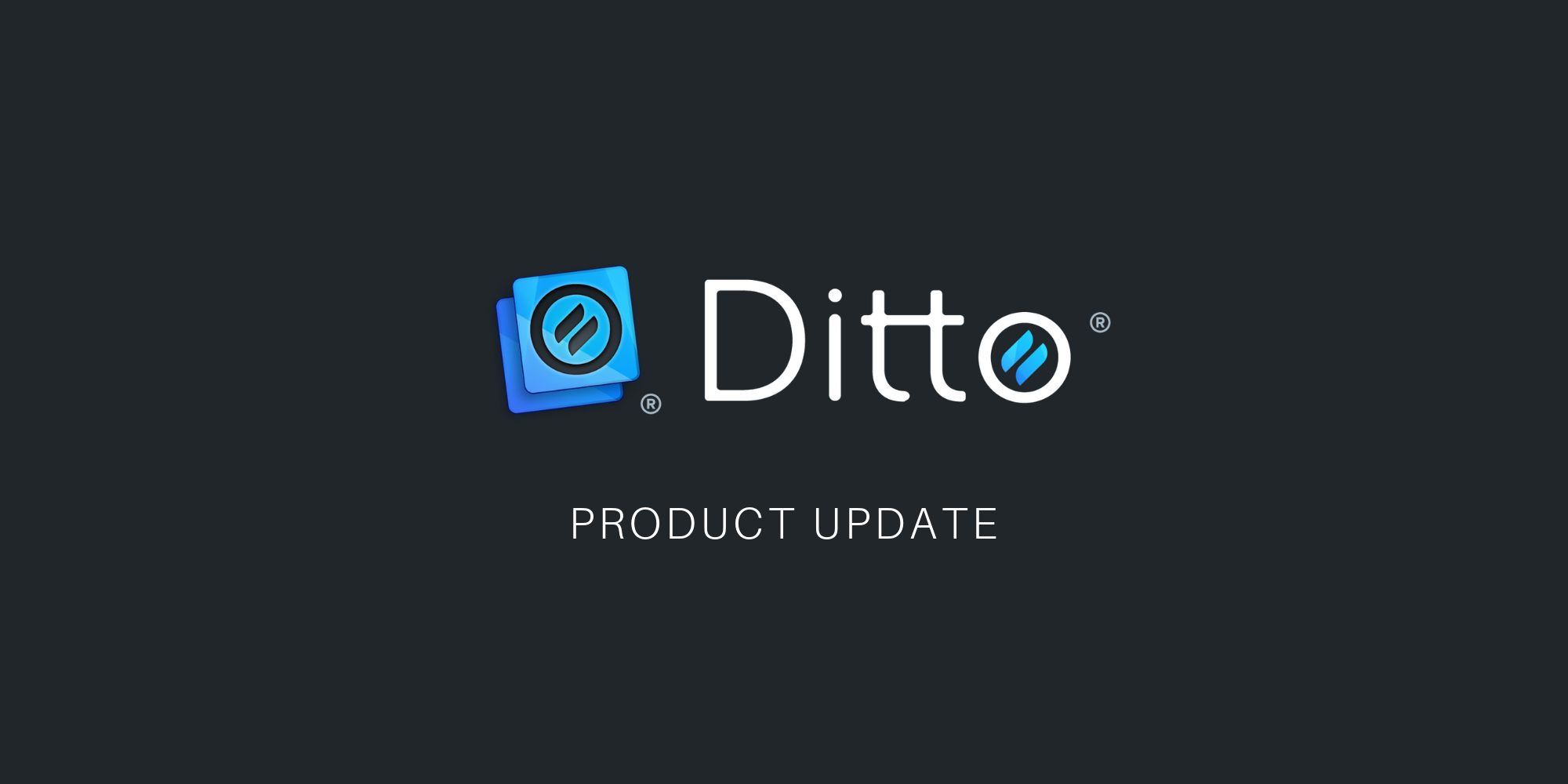 The first Ditto update of 2019 has arrived.

Log in to your Ditto Account Portal to see for yourself. You'll immediately notice a shiny new interface. We didn't just apply a fresh coat of paint and call it a day, though. We added all-new functionality that makes Ditto screen mirroring easy to scale across your entire organization.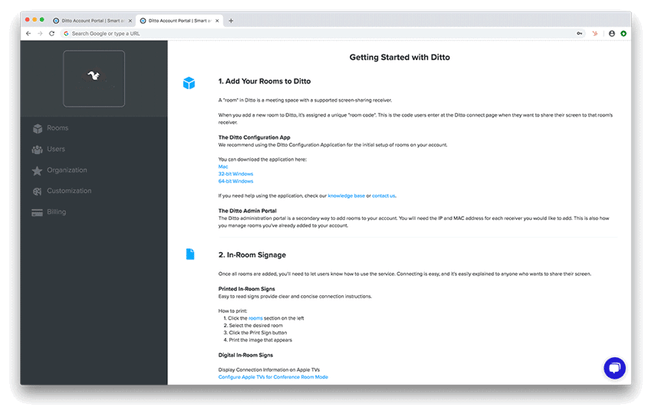 This update is just one of many coming to Ditto in the next few months as we implement user feedback and add a few ideas of our own. Ditto is primed to become a comprehensive wireless presentation solution and a seamless part of any organization.
What's New?

Rooms and Receivers are separated

We separated rooms and receivers in the Account Portal to make Ditto deployment more adaptable to your needs.
Room: A room is exactly what it sounds like. It's the meeting space you want to add Ditto to — a conference room, classroom, lecture hall, huddle space, common area, etc.
Receiver: A receiver is simply the device in that room that Ditto connects to. Compatible Ditto receivers include Apple TV, Chromecast and any Reflector-enabled device. More compatible receivers are coming to Ditto soon!
Separating the two allows you to configure rooms and receivers independently of each other in the Account Portal. You previously had to configure both at the same time.

What's the benefit to you? Managing room subscriptions is easier and more flexible than ever.

In the old Ditto Account Portal, it was impossible to delete a paid room and add a new room in its place without being required to pay for another room subscription. The monthly or annual subscription you previously paid for vanished when you deleted a room. Users would have to buy another room and request our sales team to refund them. This was confusing, frustrating and clunky.
Now you can deactivate a room by unpairing the receiver and replace it simply by adding a receiver to another room. You won't be charged again because Ditto knows you're reassigning a subscription you already paid for rather than increasing your total number of active Ditto rooms.
Better yet, you can now set up as many rooms and receivers as you want. You're only charged when you pair a room to a receiver in the Account Portal. This fundamental change to the way rooms and receivers are organized makes Ditto easier to set up, manage and scale.
More exciting updates are coming to rooms and receivers in a few weeks. Stay tuned.
Locations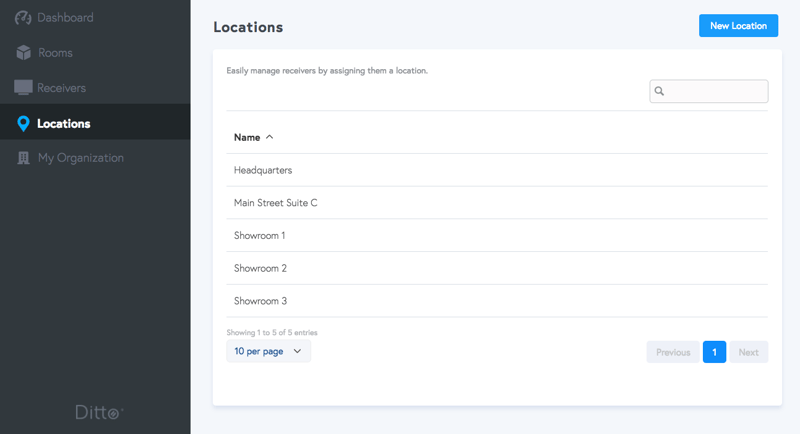 Locations make it easier to organize and manage Ditto rooms across your entire organization. Add a primary location, such as company headquarters, a division of your company or a college on campus. Then, organize further by adding sub-locations such as specific buildings, floors or departments.
The new Locations feature is ideal for organizations with large Ditto deployments. It's now easy to view or manage a specific Ditto room in the Account Portal. You no longer have to sort through hundreds of Ditto rooms to find the right one. Simply narrow your search by location and/or sublocation.
Note: Locations are only a way to organize and manage Ditto rooms in the Account Portal. Locations do not affect the end-user screen mirroring experience.
Dashboard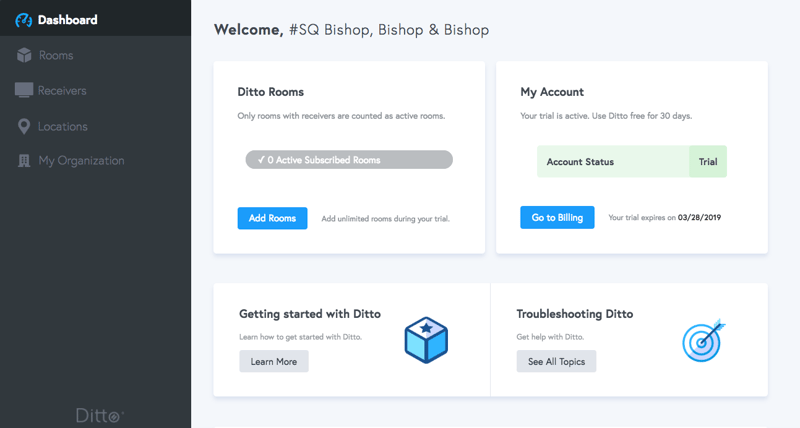 A new Account Portal dashboard gives you an overview of your Ditto account at a glance. See active rooms and account status, and access helpful troubleshooting and setup articles.
How to get the update
Simply log in to your Ditto Account Portal to experience the new features.
More to come…
A number of Ditto updates are due to arrive in the coming weeks. View our Ditto Product Roadmap for details.
Don't have Ditto?