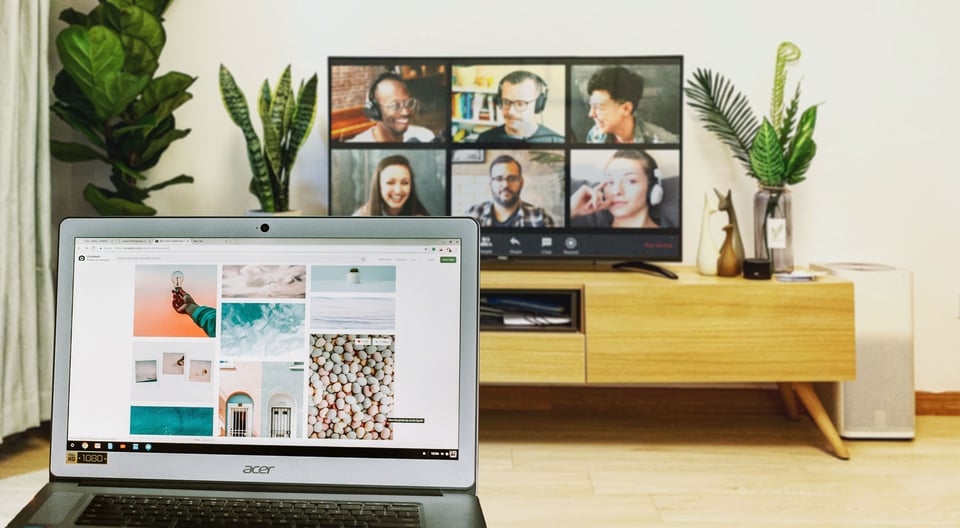 Web conferences and remote meetings are part of daily life if you're working from home. If you don't have multiple monitors to work with, it can be difficult to get work done on your computer while attending a remote meeting.
Good news: There's a solution to move that meeting screen elsewhere so you can still be productive on your laptop.
This guide will show you how to wirelessly share a web conference window to your TV so you can free up space on your computer and get other work done at the same time.
Here's what you need:
A wireless AirPlay or Google Cast receiver, such as an Apple TV or Chromecast
The AirParrot 3 app
AirParrot is an app for your computer that streams and sends content to wireless receivers, such as Apple TV and Chromecast.
Simply put, if you have AirParrot:
Windows users can mirror to an Apple TV/Chromecast
Mac users can mirror to a Chromecast/Apple TV
Anyone can wirelessly extend their computer desktop to their TV
You gain access to advanced screen mirroring and streaming that outpowers AirPlay and Google Cast
The video chat window of your remote meeting can take up a lot of screen space when you need to be taking notes, checking email and using other apps. Here's how to move that window full of talking heads to your TV or other large display.
Wirelessly move your video chat window to your TV
Step 1
Download and install AirParrot on your computer.
Step 2
Make sure your Apple TV or Chromecast is on and connected to the same wifi network as your computer.
Step 3
Open the browser window or app where your web conference is taking place.
Step 4
Under the "From" section in the AirParrot menu, select "Application."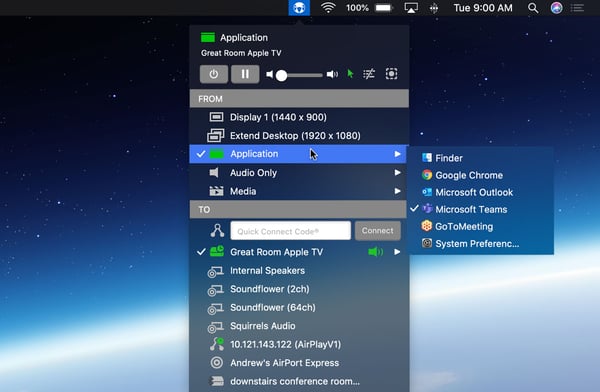 Step 5
Choose the app or window you want to send to your TV. This will be your web conference app or browser window.
Doing this will mirror only the specific window or application of your choice. The rest of your windows and apps will stay on your desktop.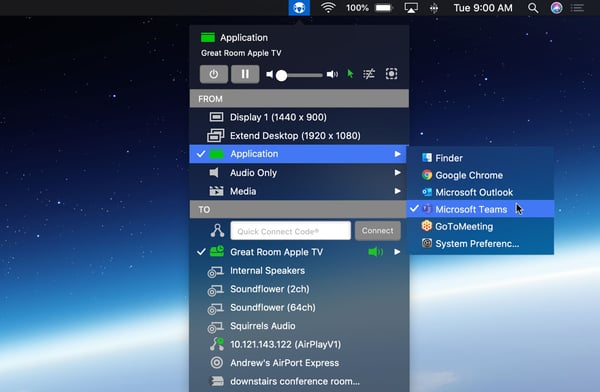 Step 6
Under the "To" section in the AirParrot menu, select the name of your receiver. This is your Apple TV or Chromecast.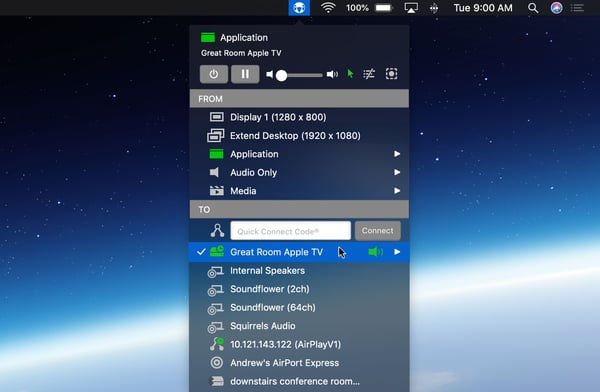 Now you're wirelessly sharing your web conference to your TV. You are free to keep working on your computer while meeting with your coworkers on the big screen. Or just hit mute and keep eating crackers in your pajamas.
Last updated May 27, 2020