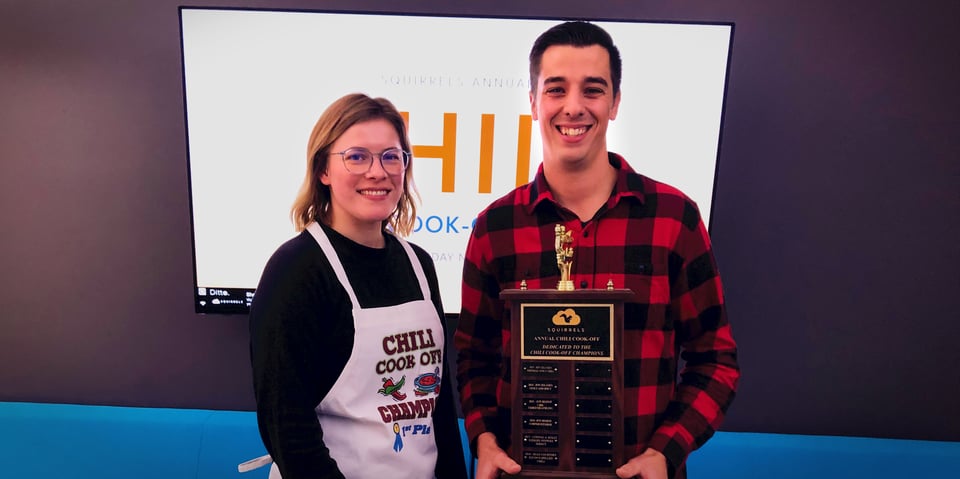 Squirrels 2019 Chili Cook-off Champions (L-R) Rachel Mullenax and Sean Courtney
Things get spicy at Squirrels in November.
Once again, Squirrels employees went head-to-head in a winner-takes-all competition to concoct the tastiest chili. See the winning chilis and get the recipes right here.
This year saw a new development: two chili categories.
Due to increasing demand and culinary creativity, The Squirrels Committee on Chili-centric Celebrations deemed two categories necessary for all chili submissions this year: Classic and Wild Card.
"Classic" incorporates a traditional tomato base with a protein and optional beans and other vegetables. "Wild Card" lets cooks venture into new and unexplored chili territory — any ingredients added to a chili base are fair game.
Whose chili stewed the competition?
Educational sales rep and reigning champion Sean Courtney took home the gold in the Classic category for the second year in row. Courtney's chili, "Christmas South of the Border," captivated Squirrels employees' hearts and stomachs alike.
"I feel elated. It's a true honor," Courtney said. "However, I won't feel like a real champion until I can bring home a three-peat championship next year. Winning three times in a row has never been done before at Squirrels, and I want to make history."
Courtney wasn't the only champion. Graphic designer and rookie chili cook-off participant Rachel Mullenax took home first place in the Wild Card category with her ingenious "There's Always Money in the Banana Stand." This mouthwatering chili incorporates habanero peppers and bananas for a so-weird-it's-amazing bowl of spicy greatness.
"If nothing else, I was confident the name of my chili would catch people's attention," Mullenax said. "You might be skeptical about the ingredients, but once you've tasted bananas with habaneros in my chili, it's more like, 'how could this ever not have worked?'"
The chili's name refers to a running joke on the TV comedy "Arrested Development" where a beachside snack shop gets a bit too hot to handle:
Here are the winning recipes:
Christmas South of the Border

Chili:
1 pound chorizo
3 pounds prepared barbacoa (see recipe below)
¼ pound bacon (maple chipotle style works great)
2 tablespoons olive oil
2 red bell peppers, seeded and diced
4 garlic cloves, minced
1 yellow onion, diced
2 jalapenos, seeded and diced (for spicier chili, leave seeds in)
2 poblano peppers, seeded and diced
½ of 2.5 ounce can chopped green chiles
6 tablespoons chili powder
2 tablespoons cumin powder
2 tablespoons onion powder
4 teaspoons paprika powder
24 ounces Great Lakes Christmas Ale
1 cup beef bone broth
29 ounces fire roasted diced tomatoes
30 ounces tomato sauce
Salt and pepper to taste
Black beans and queso fresco cheese for garnish
Barbacoa:
3 pounds chuck roast (fat trimmed), cut into 2-inch chunks
4 cloves garlic, minced
2 chipotles in adobo sauce, chopped
One 4-ounce can chopped green chili
1 small white onion, finely chopped
¼ cup lime juice
2 tablespoons apple cider vinegar
3 bay leaves
1 tablespoon ground cumin
1 tablespoon oregano
2 teaspoons salt
1 teaspoon black pepper
¼ teaspoon ground cloves
½ cup beef bone broth
Instructions
Prepare the barbacoa:
Combine all ingredients in a slow cooker and toss gently to combine. Cover and cook on low for 7-8 hours, or until beef is tender and falls apart easily when shredded with a fork.
Discard bay leaves. Removes chunks of beef onto a separate plate with a slotted spoon. Shred the beef with a fork.
Prepare the chili:
Preheat oven to 400 F.
Brown the chorizo over medium heat in a large pot. Drain and set aside.
Bake bacon on foil-lined baking tray oven for about 10 minutes. Flip bacon and bake for approximately 8 more minutes or until desired crispiness.
Remove bacon from the oven, drain on a paper towel, crumble and set aside.
Add olive oil to the large pot and sauté onions, garlic, bell peppers, jalapeno, poblano pepper and green chiles for 5 mins.
Add drained chorizo, bacon, barbacoa, pinto beans, black beans, Christmas Ale, beef bone broth, diced tomatoes, tomato sauce, cumin, chili powder, onion powder, and paprika to the pot and cover.
Bring to a boil, then reduce heat and simmer, covered, for 1-2 hours. Stir occasionally.
Top with queso fresco cheese and bacon.
Serve and enjoy
There's Always Money in the Banana Stand
3 cans (43.5 ounces) diced tomatoes
64 ounces chicken stock
2 onions, diced
5 bell peppers, seeded and diced
6 habanero peppers
3 cloves garlic, minced
½ cup brown sugar
2 tablespoons cumin
5 tablespoons chili powder
3 pounds ground pork
6 bananas
1 bottle Wolf's Ridge Brewing Co. Clear Sky Day Break (coffee vanilla cream ale)
Salt and pepper to taste
Instructions
Brown the pork over medium heat in a large pot for 15 minutes.
Add chopped onion, brown sugar, cumin, chili powder, garlic, one can of tomatoes and the bottle of coffee cream ale. Cook for another 4 minutes. Add salt and pepper to taste.
Meanwhile, in another large pot, bring chicken stock, diced bell peppers and the remaining diced tomatoes to a boil.
Add the contents of Step 1 and 2 to the boiling pot. Reduce heat. Simmer for 1 hour.
At the 1-hour mark, toss bananas into a food processor and puree until smooth. Add chopped habaneros and then combine with the contents of Step 3. Simmer for another hour.
Serve and enjoy
With two chili categories, 2019 has been Squirrels' spiciest Chili Cook-off yet. Here's to another flavorful year. 🌶️