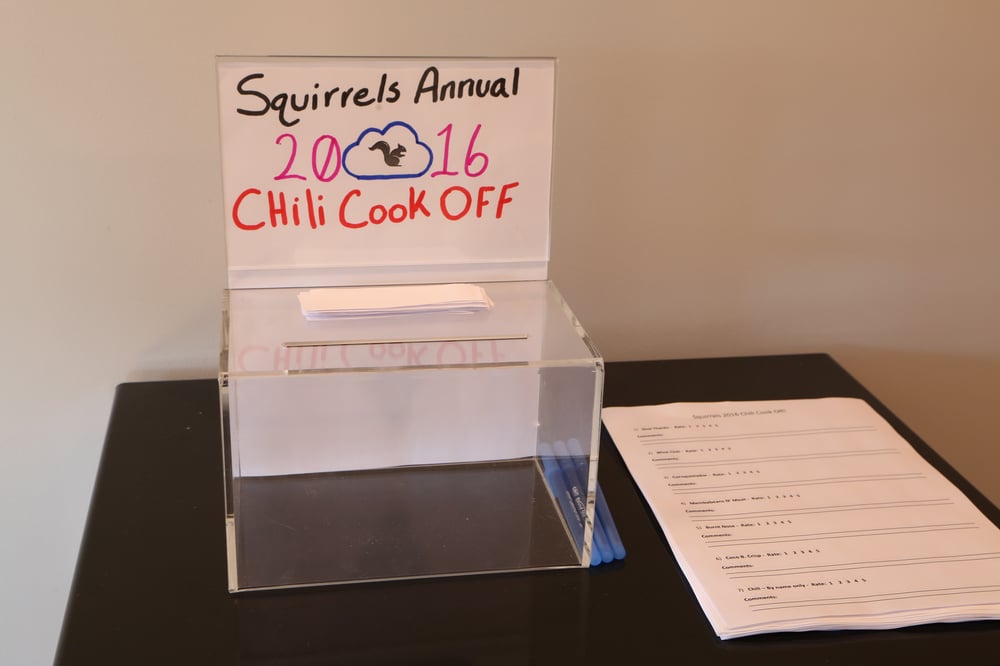 If there is one thing you should know about us, it's that we take chili very seriously.
Squirrels celebrated its fourth annual chili cook-off last Friday. Seven unique employee-made chilis were entered into the contest. We're just now coming out of the food coma, and we have absolutely no regrets about the amount of food we consumed. We've learned that it's best to view the chili cook-off as Thanksgiving preparation. Although it was 70 degrees and sunny outside, that didn't stop us from enjoying the chili utopia and copious amounts of deserts that employees graciously made for the day.
Also, we are forever thankful to whoever provided the cornbread.
After sampling all of the goodness and tallying up votes, the "Jons" continued their Squirrels chili cook-off dominance. Reigning champion Jon Bishop was crowned the winner once again with his "Cornquistador" chili. Cornquistador is a thick, spicy pork and corn chili with a cheesy base and a lasting–but bearable–heat. It contains three types of meat (bacon, chorizo and ground pork), six different spices and six kinds of veggies, all sliced to perfection.
Here's the complete recipe:
VEGGIES:
1 yellow onion, diced small
1 bag of small sweet peppers (yellow and red), deseeded, diced small
1 shallot, minced as finely as possible (it'll basically dissolve overnight)
4 jalapeños, chopped, seeds in
2 serrano chili peppers, thinly sliced
Veggies go into the crockpot first.
MEAT:
1lb. of ground pork, browned in Sriracha, salt and pepper
1lb. of chorizo, crumbled, browned in the same skillet
9 strips of thick-cut bacon, cut into bits, drizzled in honey and seared in the same skillet
Throw all of that into a bowl, drain the fat. Add to chili after the veggies and before the sauce and spice.
SAUCE:
1 can of Campbell's Cheddar Cheese sauce
1 6oz can of tomato paste
1 can of Rotel diced tomatoes with lime and cilantro
SPICE:
1 tsp chili powder
1 tsp smoked paprika
2 tsp salt
1 tsp pepper
1 tsp cumin
1 tsp garlic powder
Spread the sauces over the meat, add spice and stir. Cook on low for 6 hours.
AFTER 6 HOURS ADD THIS:
2 cans of corn, drained
2 extra jalapeños, chopped
1 extra Serrano chili, thinly sliced
1.5 packages of tex mex shredded cheese
The juice of 1 lime
Season to taste (I added a little extra salt, paprika and chili powder)
This is Jon's second consecutive win, following two-time champ Jon Zelasko. Will anyone ever dethrone the "Jons?"
Sam Coffman came in second with her "Give Thanks" chili, which was an all turkey, Thanksgiving-inspired recipe. This sure gave us all the warm, cozy feels with Thanksgiving just days away.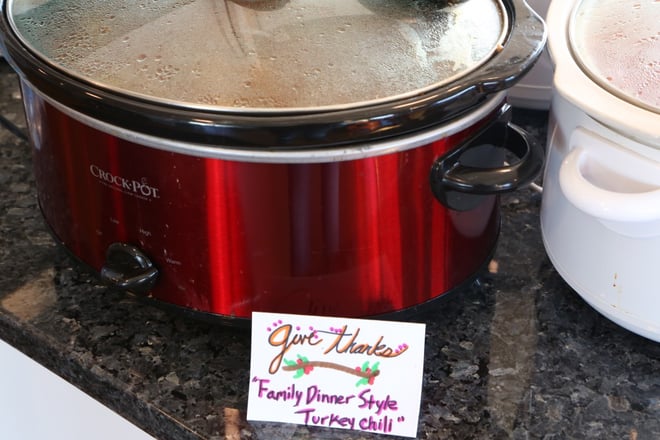 Although only one chili was crowned champion, we couldn't have made this day happen without the rest of the amazing chilis that are all winners in our hearts: Coco B. Crisp (Ashley Swinehart), Wine Chili (Andrea Sommers), Chili – by name only (Mike Bruin), Burnt Nose (Aaron Rinier) and Membabeans N' Meat (Jessica Chevalier and Kyle Gritzan).