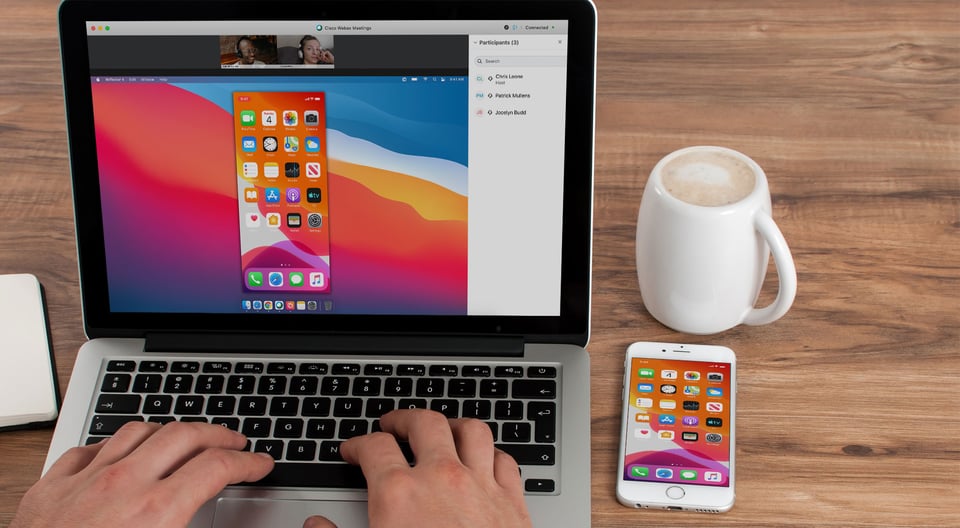 This quick guide shows you how to share your iPhone, iPad and Android screen while using Cisco Webex. Cisco Webex is virtual meeting software that brings conferences and calls online. Businesses and schools use Webex to hold remote meetings, make video calls and teach classes virtually while working from home.
There are two ways to share your device screen with Cisco Webex:
Method 1 is limited and only works if you're using the Webex app on your phone or tablet. Method 2 offers more features, better multitasking and a more professional meeting experience using a computer app called Reflector. This method also shows how to share a computer screen.
If you use Cisco Webex on a computer, skip to method 2.
How to share your iPhone, iPad and Android screen with Cisco Webex
Method 1: Cisco Webex mobile app
This method only uses your phone/tablet, including the latest iPhone, iPad and Android devices. Multitasking is not available.
Step 1
Open the Cisco Webex Meetings app on your phone or tablet.
Step 2
Start or join a meeting.
Step 3
Begin broadcasting your screen. There are separate steps to do this depending on your device.
iPhone/iPad:
Make sure the Cisco Webex Meetings app is open.


Hard press the screen recording button.

A menu will pop up to indicate where you'll share your screen. Select Webex Meet.

Android:
In the Cisco Webex Meetings app, tap the ellipsis (three dots) button at the bottom of your screen.




Your phone or tablet will share its screen with everyone in the meeting.
You won't be able to multitask or see others in the meeting when using this method, but your colleagues will be able to see your mobile screen, like this: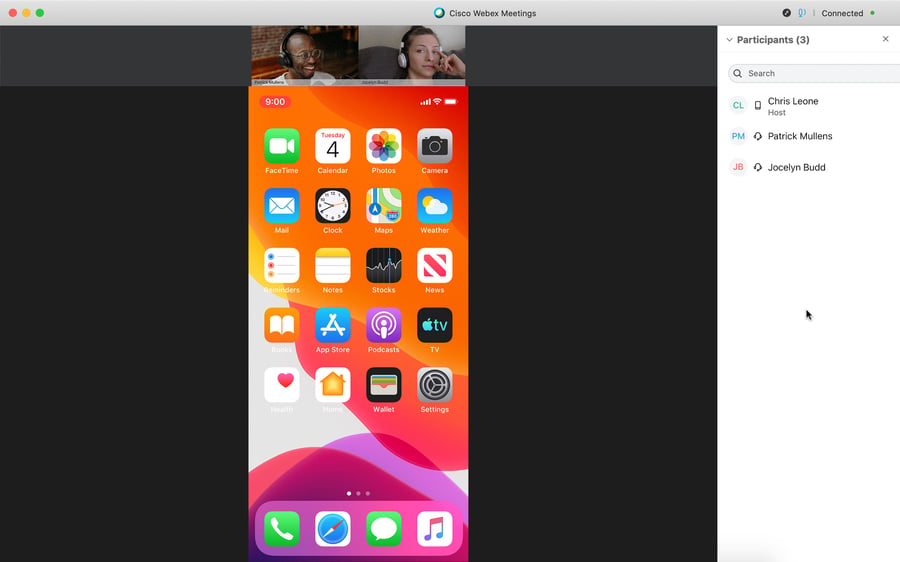 Method 2: Use Reflector with Cisco Webex on your desktop (multitask, more features, share better)
This method is better for sharing. You can multitask, use more features and collaborate easier because it uses both your mobile device and your computer. Sharing this way allows you to do all of the following at the same time:
Share your mobile device screen (with option to share your computer screen as well)
See your colleagues on your computer video chat
Use your computer to take notes, browse the web and use other apps
Use a different videoconferencing platform? This method also works with Microsoft Teams, GoToMeeting, Google Meet, Zoom, Slack and Discord.
Step 1
Download and install Reflector on your Mac or Windows computer.
Step 2
Make sure your computer and mobile device are connected to the same wifi network.
Step 3
Launch Reflector on your computer.
Step 4
Open Webex on your computer and join a meeting.
Step 5
On your mobile device, open the screen mirroring/cast options and begin screen mirroring to Reflector.
Not sure how? Check these out:
Step 6
Important: To make sure your mobile device screen shares properly, hover over your device in Reflector and click the green settings cog next to the device name. Ensure "Always on Top" and "Fullscreen" are toggled off.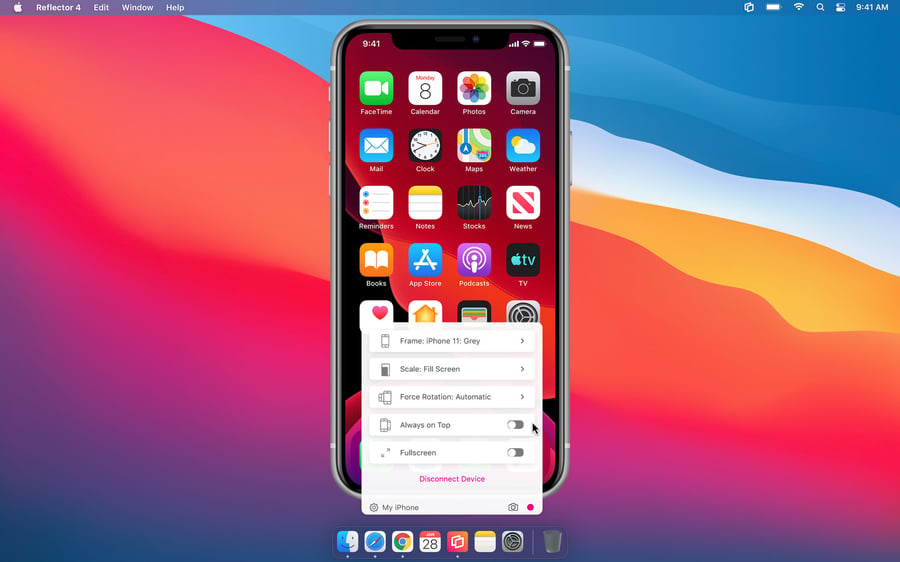 These must be toggled off to successfully begin sharing your device screen over a videoconferencing platform like Cisco Webex. If you prefer, you can toggle these settings back on after you begin presenting your computer screen.
Step 7
In Webex on your computer, click the Share Content button.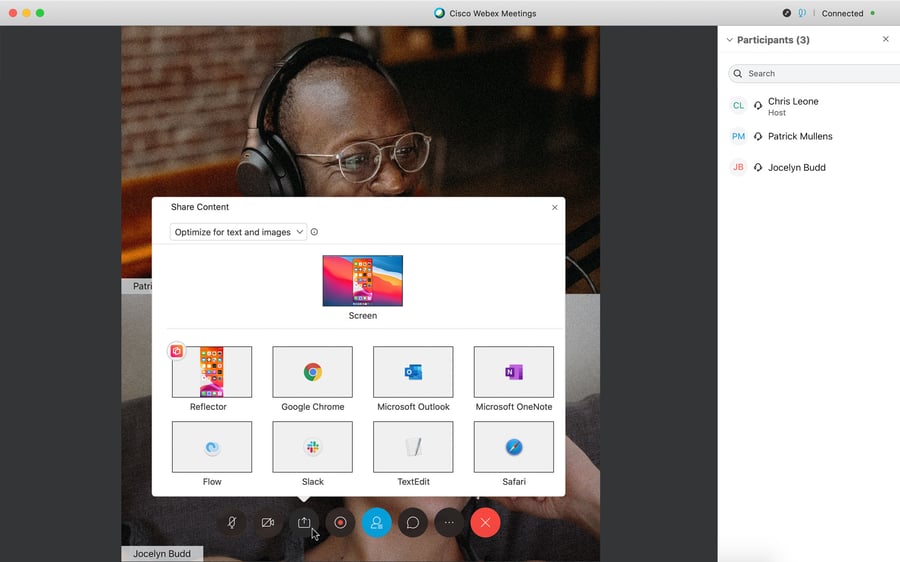 Step 8
Select the option labeled Reflector. It is the window containing your mobile device screen.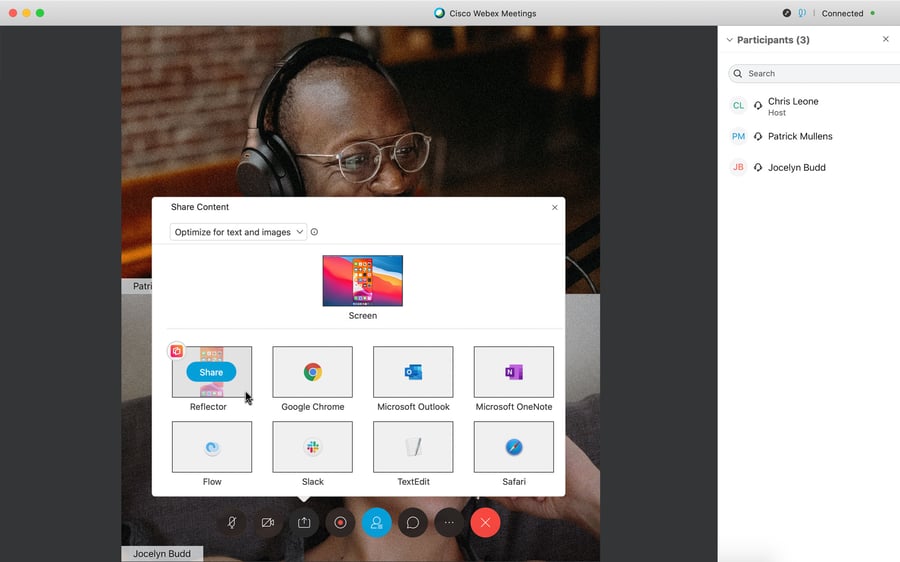 Step 9
Click Share.
Now you're wirelessly sharing your mobile screen to your Cisco Webex meeting. You can present from your mobile device while working on your computer screen and seeing your teammates in video chat at the same time.
Everyone will be able to see what's on your phone screen. Learn how to turn off notifications while screen mirroring.
Get Reflector today to work, share and collaborate better.
Pro Tip:
You can share your whole desktop so your mobile device and computer screen are visible at the same time. To do this, just select "Screen" instead of an application window in Step 8.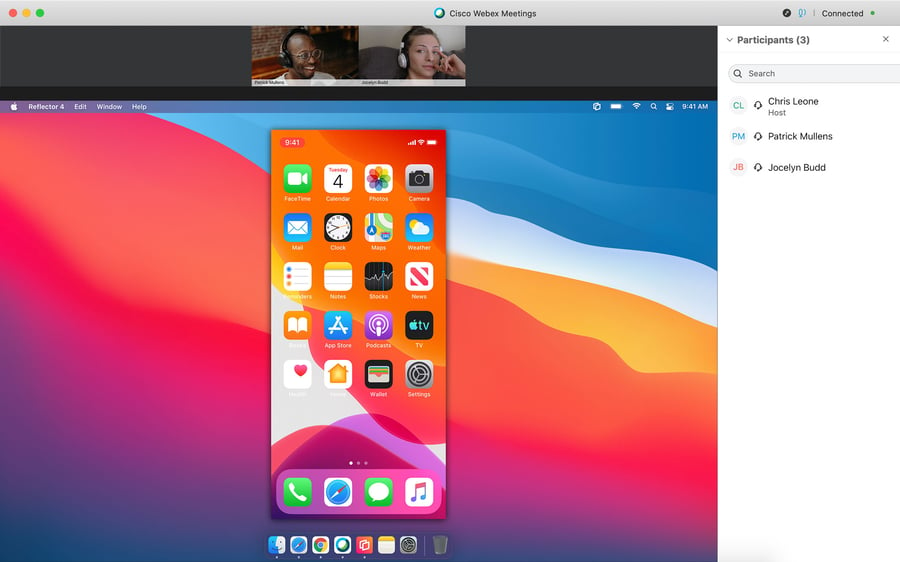 Related Reading
Updated 5/3/2023