Pokémon Go is dominating the gaming world and Blink 182 just released a number one album. Let that sink in for a second, then take a moment to reassure yourself that you didn't time travel back to 1999.
Pokémon Go, a new augmented reality mobile game for iOS and Android, has ignited deep-seeded nostalgia in an entire generation and picked up new fans on its way to becoming the most popular U.S. mobile game…..ever. In fact, Pokémon Go has already added BILLIONS to Nintendo's market value (up more than 20 percent) and surpassed daily usage numbers for apps such as Facebook, Twitter and Snapchat.
So let's ask the important question here. How do you record and share Pokémon Go gameplay from your iOS or Android device? Gamers and passive fans alike want to record their battles and catches to share with the world for bragging rights, tutorials and entertainment.
Reflector 2: Wireless mirroring and recording for iOS and Android devices
To record Pokémon Go, download Reflector 2 by Squirrels LLC. Reflector 2 is a $14.99 desktop software that runs on your Mac or PC. It acts as a wireless AirPlay receiver for iOS devices (iPhone, iPad, iPod Touch) and a Cast receiver for Android devices.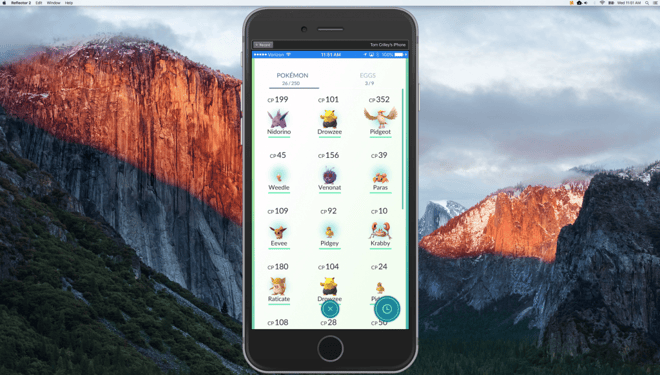 Once you begin mirroring, Reflector gives you the option to record the mobile device screen. Just click the "Record" button at the top left of the mirrored screen on your Mac or PC. The record option will be in the same place for both iOS and Android.
Check out a quick Pokémon Go video made using Reflector 2.
Once you are done recording, click "Stop" and choose where to save the mp4 file on your computer. If you would like, Reflector also allows you to mirror a live stream of your mobile device directly to a global or private YouTube audience so you can share your Pokémon Go gameplay instantly….while you're playing the game.
Your mobile device and your computer must be connected to the same network in order to use Reflector 2. This is how your iOS/Android device "discovers" the Reflector software running on your computer. While it is true that your mobile device must be in range of your network, this doesn't mean you can't enjoy Pokémon Go while walking around out in the world.
Using Reflector with a wireless hotspot
We realize that many Pokémon Go gamers visit local parks, monuments, college campuses and lakes to battle and catch their favorite Pokémon. If you would like to record Pokémon Go…on the go…all you need is a mobile hotspot. Many users can simply use their "phone" as a hotspot by turning on the device's Personal Hotspot in the settings menu. Or, if you don't want to use your phone's monthly data plan, you can use a small external mobile hotspot.
Wirelessly connect your computer to your phone's hotspot (or if you have an external hotspot device, wirelessly connect both the phone and computer to it). This will allow you to mirror your mobile device to the Reflector software running on your computer, just as you would if you were indoors.
So if you're looking for an easy way to record all of your Pokémon Go action, Reflector 2 is the answer. Oh, and you can listen to that new Blink 182 album while you're strolling through the park. But when someone asks you what year it is, remember that it's definitely 2016.