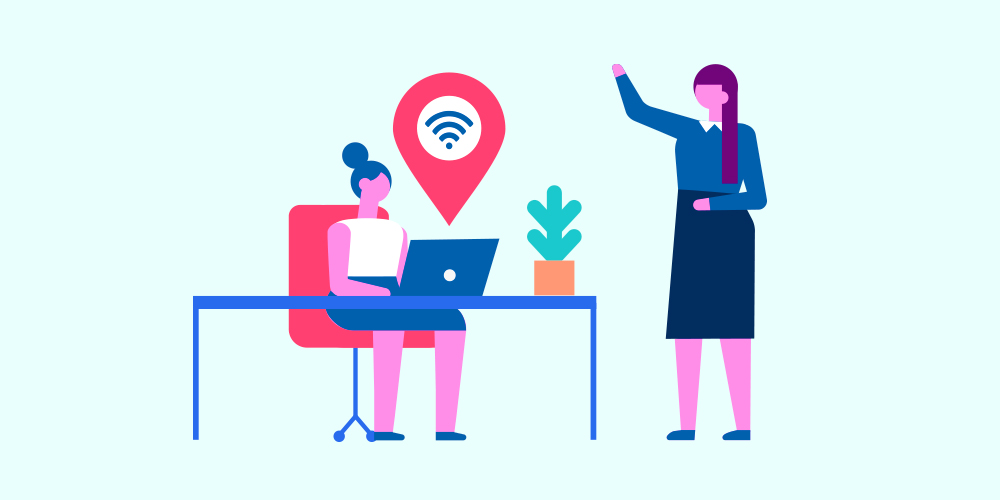 We need to have a chat about media access control (MAC) addresses.
What is a MAC address? How do you find a MAC address? Why should you care about a MAC address in the first place?
We have the answers you're looking for. Here's what you need to know about MAC addresses:
Question 1: What is a MAC address?
A MAC address is a unique identifier for a device that accesses the internet. Think of a MAC address like your car's vehicle identification number. It's assigned to your device and never changes.
You've probably encountered MAC addresses if you configure devices or set up receivers on a network. For example, a MAC address is needed to enable Ditto screen mirroring in conference rooms and classrooms.
Learn how to present to the big screen without wires using Ditto.
A MAC address is a string of 12 figures, usually displayed as six sets of two digits or characters, separated by colons or hyphens.
Here are a few examples:
00-14-22-01-23-45
00:0a:95:9d:68:16
A MAC address is typically assigned to a network interface card (NIC). The NIC is a small circuit board inside your computer that makes it possible for your device to communicate over a network, such as the internet.
Question 2: How do I find my MAC address?
There are different ways to find your MAC address depending on your device. Here's a handy list with instructions:
Click the network icon in the bottom-right of the screen near the clock.
Click "Properties" to open the network properties.
Locate the MAC address toward the bottom of the window.

Press the Windows key on your keyboard then type "settings" into your search bar.
Select PC settings.
Select "Network" from the menu on the left side of the window.
Select "Connections" and then "wifi."
Select your network.
Locate the MAC address toward the bottom of the window.

Click the network icon in the bottom-right corner of the screen near the clock.
Click "Open Network" and "Sharing Center."
Click your network name.
Click "Details."
Locate the MAC address in the window.

Click the Apple icon in the top left corner of your screen and select "System Preferences."
In the System Preferences window, select "Network."
Select the network you're currently on in the left menu.
Click the "Advanced…" button.
Click the "Hardware" tab.
Locate and note the MAC address on this screen.

Choose Settings -> General -> About.
The IP address and MAC address will be listed on this screen.
Note: Apple TV refers to the MAC address as "wifi Address" or "Ethernet Address."
Question 3: Why should I care about a MAC address?
MAC addresses are commonly used to identify your device when connecting to a network. Routers can filter out MAC addresses they don't recognize. It's useful to know the MAC address of your device to ensure it connects to the network properly.
Let's revisit the example we used before. MAC addresses are important if you want a wireless presentation solution like Ditto for your organization. Ditto uses MAC addresses to recognize each specific wireless receiver on your organization's network. This ensures that every meeting space is set up with the correct receiver and screen mirroring works flawlessly.