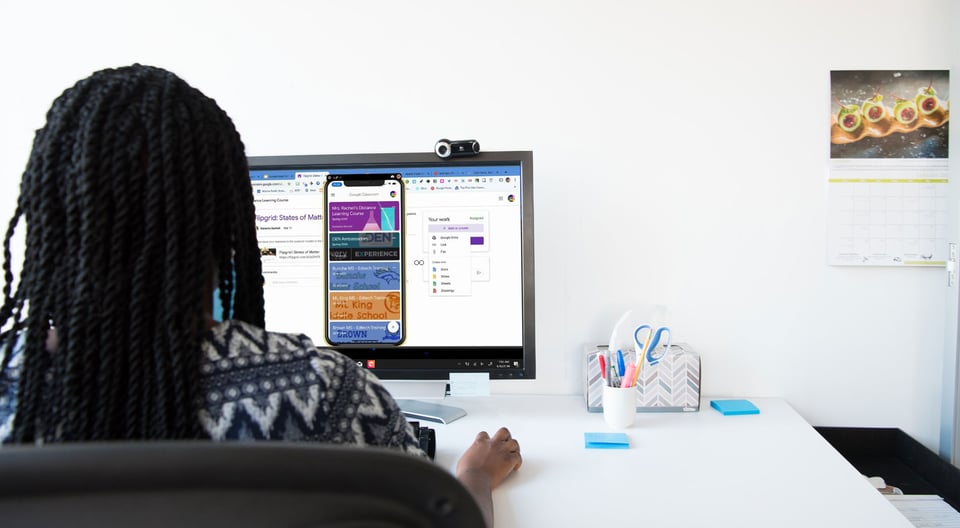 No distance learning plan is complete without technology integrators and administrators. These staff members are important to the success of distance learning, as they provide direct instruction and support for teachers.
When teachers are new to working from home, they experience many tech challenges for the first time. Luckily, there's an easy way for EdTech integrators to provide professional development training from anywhere. This guide shows you how with examples from a real educator doing it herself.
Certified EdTech expert Jennifer Hall showed exactly how she remotely trained teachers at Atlanta Public Schools on Google Classroom with an app called Reflector.
It was so awesome being able to easily mirror my iPhone using @ReflectorApp and demo the @GoogleForEdu Classroom app during my online training with @apsupdate Ts. #edtech #TechTips411 #APSITInspires @APSInstructTech #distancelearning @ahrosser @emilycarle pic.twitter.com/GMTnoS9pdL

— 𝐉𝐞𝐧𝐧𝐢𝐟𝐞𝐫 𝐇𝐚𝐥𝐥, 𝐍𝐁𝐂𝐓 (@apsitjen) March 17, 2020
Reflector, along with a videoconferencing tool like Zoom or Microsoft Teams, can be the easy solution to maintain your professional development and training goals no matter where your teachers are working.
Note: This setup will also work if you want to share a recorded training with your teachers instead of holding a live session. Learn more below.
How to

Demo

Apps Like

Googl

e Classroom Remotely to Teachers
This example highlights Google Classroom, but any app or extension can be shared with Reflector.
Step 1
Download and install Reflector on your Mac or PC.
Step 2
Open Google Classroom on your mobile device.
Step 3
Open your preferred videoconferencing tool on your Mac or PC. 
Step 4
Open Reflector on your Mac or PC. 
Step 5
On your mobile device, open the screen mirroring/cast options and tap the name of your computer to begin screen mirroring to Reflector.
Not sure how? Check these out:
Note: Make sure your device is connected to the same wifi network as your computer.
Step 6
Within your videoconferencing tool, select the option to share your screen. 
Note: The videoconferencing tool is not needed if you prefer to record your lesson and share it later instead of holding a live remote training. Simply utilize the recording features in Reflector.
Begin your training!
Start your PD session in your PJs!
The teachers you are working with will be able to follow along as you walk through new applications. Remote teaching can be a challenge, but it does not have to stop you from sharing resources and supporting your teachers. Reflector will allow you to continue your interactive and engaging training.
Join educators around the world using Reflector!
Share your screen wirelessly. Train people thoughtfully.
BUY
$19.99
Last updated 9/23/21