Every November, Squirrels employees spend hours crafting their perfect chili for a chance to be the next reigning chili champion. This year, two-time champ Jon Z. handed the trophy off to a fellow Jon—Jon B. The winning chili, "1-800-THREEMEATBLING," was a mix of ground beef, chorizo, steak, red and green pepper, onion and more.
"I wanted to make a chili as spicy as Drake's dance moves," Jon B. said. "There's not much of my chili left in there, so that's pretty good."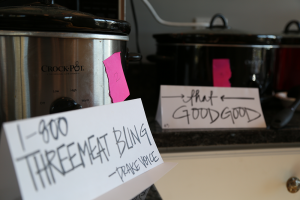 Ashley S. came in second with her rendition of chili appropriately titled "Chipotle."
"'Chipotle' paid homage to the smoky heat that is chipotle chili peppers," she said.
Marinated in Southern Tier Warlock, the beef chili gave the fast food chain a run for its money.
The chili cook-off, now in its third year, saw nine submissions. Chiles of all types were submitted—from sans beans and meatless to Mexican-inspired and multi-meat dishes. Some who didn't enter the chili cook-off added to the fun with supporting dishes and sweets—cornbread, pumpkin pie and puppy chow to name a few.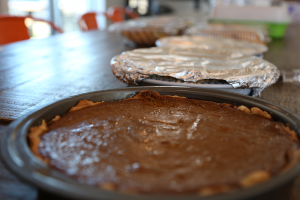 As we digest today, we're already looking forward to next year's cook-off.