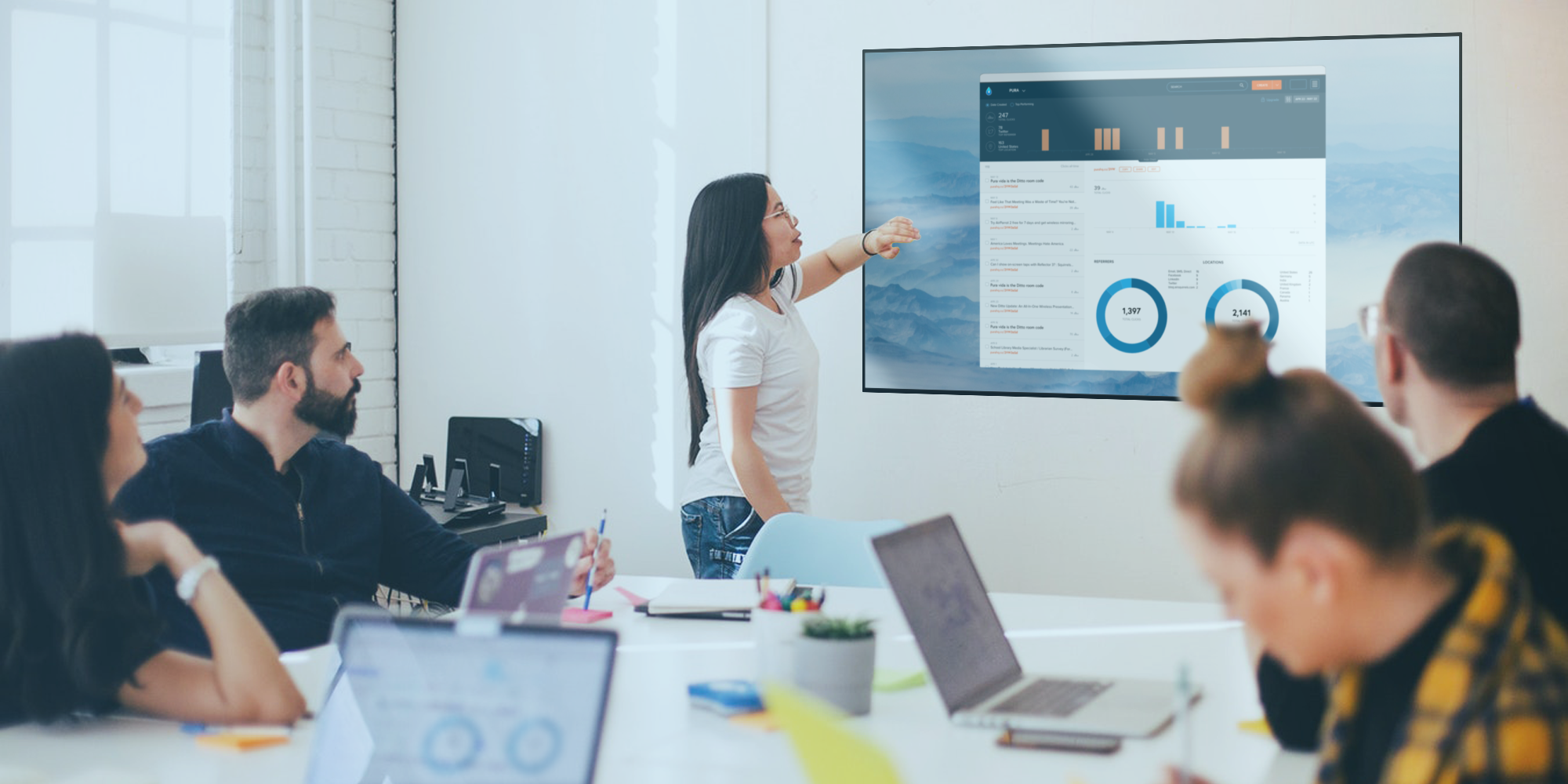 Hardware deployment and maintenance are time-consuming and expensive. But if your technology is smart enough to prevent issues in the first place, you can save precious time, avoid spending extra money and devote resources to other strategic projects.
How Ditto Simplifies the Conference Room
Using Ditto for your wireless presentation technology cuts existing costs and prevents new ones. With Ditto, you can:
1. Use the audiovisual tech you already have
If your conference rooms and meeting spaces are already set up with dedicated computers or wireless receivers (such as an Apple TV, a Windows device or a Chromecast), the battle is already won. Ditto works with the most popular receiver types and devices used today — likely ones you're already using.
When you already have what you need to mirror all of your devices, you're free to…
2. Purchase less hardware (or none at all)
No additional hardware is required to use Ditto with the technology you already have on-site. Unlike other presentation systems, you aren't required to purchase additional dongles or proprietary hardware to use Ditto. That means no additional maintenance on new tech. Plus, you save money and time on procurement, purchasing and deployment. It's simple, really: Don't buy tech you don't need.
3. Reduce help desk tickets
With error-free connections and a clean, simple interface, even the most timid tech user can present without issues using Ditto. When it comes to presentation tech, a school IT department nearly eliminated support tickets entirely because Ditto is so easy to use: "What we found through the first term of this year is virtually no calls to the service desk for connection issues," they said. "That was unheard of. There were always problems in the past."
4. Kiss cable and adapter problems goodbye
How many times does tech support get called because VGA adapters or HDMI cables have stopped working? Think of how many different types of devices people use. How many meetings and presentations get interrupted because the cables aren't compatible with users' devices in the first place?
Since Ditto is completely wireless, no cables or adapters are needed to connect to a large display. Screen mirroring is a breeze and presentations start without a hitch. No more stressing over incompatible cables or why an adapter won't work.
5. Stop worrying about device compatibility
Traditional screen mirroring receivers often only work with device types made by the same manufacturer. Ever had Windows or Chromebook users complain they couldn't screen mirror to an Apple TV? What if they want to present to a Chromecast from an iOS device? Because it's cross platform, Ditto eliminates the barriers between different devices and brings consistency to all users. Anyone can mirror to the big screen — no switching between receivers, cables or computers when people want to present.
Free up your tech support with Ditto
Hands-off technology that operates easily for users and is easily manageable by admins simplifies any environment. Ditto's ability to work cross-platform and with the hardware you already have frees up valuable time and effort for the IT department. It keeps things running smoothly for users and simplifies the workload for the help desk. When you have less to think about, you can do more, better.