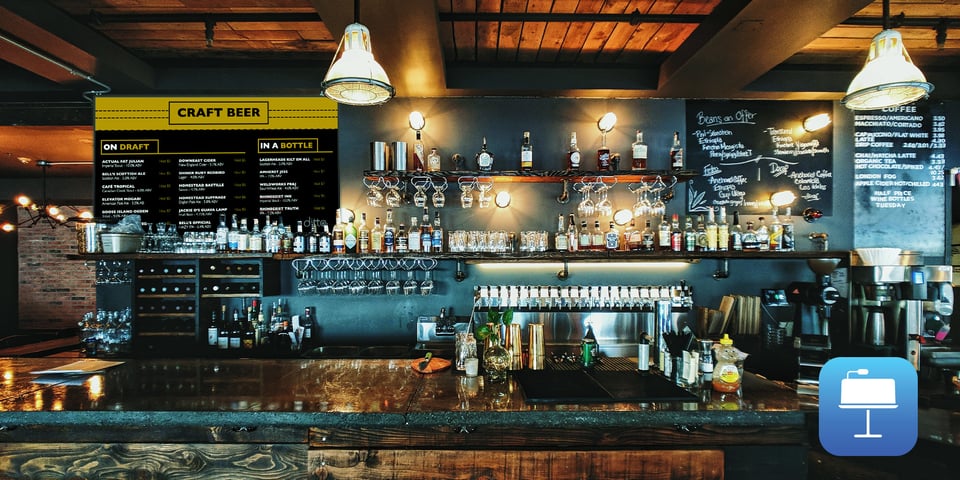 Survival in the retail and food industry might depend on your ability to quickly create and edit eye-catching digital menu boards. Yeah, it's that important. Luckily for you, a slideshow app like Apple's Keynote is perfect for the job. (Plus, Keynote is free for macOS, iOS and iPadOS devices. ✌️)
Get free Keynote templates for digital menu boards right here. No need to design menus yourself. We made them for you, with love.
People in the food and retail industry all run into the same problem: Customers get confused about what you have to offer. 🚨 ATTENTION: The issue is not what you're serving, it's how you let people know what you're serving.
Customers have a million questions and don't read. Nobody reads anymore, so...congratulations on reading this. If your store's digital menu board is clear, accessible and up to date, you're one step closer to solving the problem.
That's why we created this comprehensive guide: If you can edit a Keynote slide, you can make a digital menu board. It's that simple. This guide shows you how to configure Apple's easy-to-use presentation app Keynote for digital menu boards. In just minutes, you can turn a slideshow into signage that makes people pay attention and take action.
How to Create Digital Menu Boards with Apple Keynote
Step 1 — Prepare your document
Make sure your slides are the correct size to best fit the displays in your organization. Don't place square menus on widescreen TVs.
How to change your slide size:
In Keynote's toolbar, navigate to Document > Slide Size.
From here, choose the best size option for your displays. This will vary depending on what devices your organization uses. However, a safe bet is the "Widescreen (16:9)" option. Most modern TVs display a 16:9 aspect ratio. You can also set custom dimensions if none of the existing defaults are what you need.
Step 2 — Design your digital menu boards
Creating and designing content for digital menu boards doesn't have to be difficult. Start with Apple's default Keynote templates if you need design inspiration. Keep things simple, legible and relevant.
Skip the design time and get our free, professionally designed Keynote templates for digital menu boards right here.
It's right there. ⬆️ Click that link to make everything easier!
How to access default Keynote templates:
In Keynote's toolbar, navigate to Document > Theme.
Click the "Change Theme" button.
Scroll through the available themes and choose your preferred one.
Want to learn more about menu boards and digital signage? Check out these helpful articles:
Step 3 — Export your digital menu board files
Now it's time to turn your Keynote presentation into digital menu board assets:
Make sure your slideshow is complete and saved. Then, navigate to File > Export To…
In the menu, select your preferred file format of your new digital menu assets.
A new menu will appear. You can further customize specifics of your export, including:

File format type
Number of slides
Resolution (if exporting to video)
Slide duration (if exporting to video)

Select "Next" and choose where to save the exported slides.
Click "Export" and your files will download.
Digital menu board exporting tips:
Ensure the file format you choose is compatible with your digital signage service. Most digital signage content management systems (CMS) will accept common image and video files. For example, Ditto digital signage is compatible with a variety of media file types, such as PNG, JPEG, GIF and MP4.
Make sure to set up your slides to the correct aspect ratio and export them to the correct dimensions. Your slides should fill up the entire screen of your TVs and monitors.
Common display dimensions:
| | | |
| --- | --- | --- |
| | HDTV | 4K TV |
| Pixel dimensions: | 1920 x 1080 px | 3840 × 2160 px |
| Aspect ratio: | 16:9 | 16:9 |
These dimensions can vary depending on what displays your organization uses.
You can export your slides as static images or use Keynote to combine them into a single video file that plays all slides for a set amount of time.
Step 4 — Integrate with your CMS
Now that you have exported your slides, it's time to get them up on your screens. Some digital signage solutions only play files from a physical source like a USB drive. However, the best type of menu board and digital signage service includes a CMS that is touch-free and accessible from anywhere.
Organize your content and set scheduling and duration parameters. To do this you'll need to upload the files to your preferred signage solution or deploy physical hard drives loaded with your content to each display. The digital signage solution you use can make this process super simple or incredibly time-consuming — opt for a centrally managed solution that has a built-in CMS, like Ditto.
Now your displays will begin playing the digital menu board content you created from Keynote. ✨
Get free, professional Keynote templates for digital menu boards.
Save design time and free up your workflow with these easy templates.
GET FREE TEMPLATES