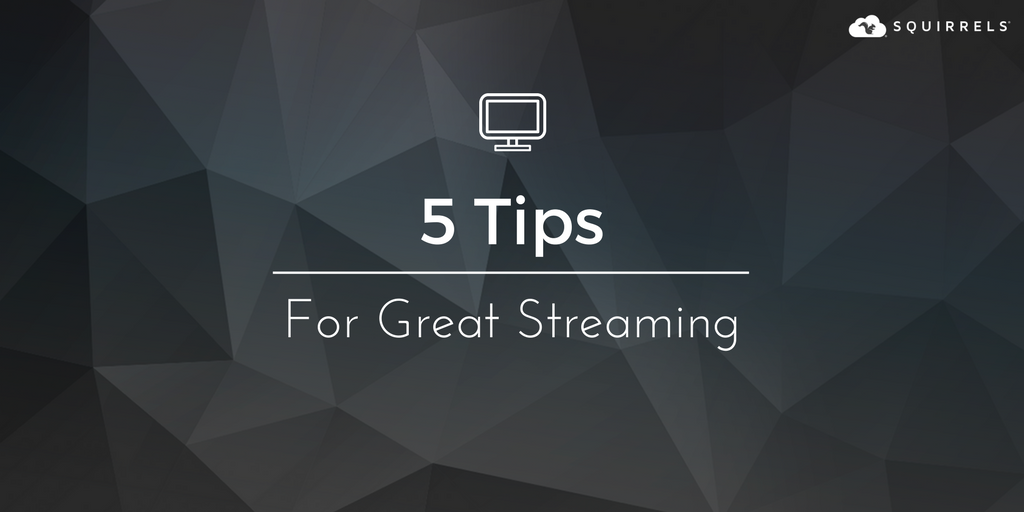 This is a guest post from Chris Brantner of CutCableToday.com.
Streaming services have rapidly gained in popularity the last few years. They offer seemingly never-ending content for subscribers, including TV shows, movies and even streaming tons of live sports.
Unfortunately, all that content goes to waste if you have a bad streaming setup. You might think the only things you need to do are set up your Wi-Fi, subscribe to a service and begin streaming, but there's much more you'll want to do.
Make sure you take the right steps to ensure your setup is fine tuned for optimal streaming quality. That way you can avoid the disastrous scenario of waiting for the stream to buffer right as a huge play is breaking out while you're streaming an NFL game. Here are five tips to help you get the best streaming experience:
1. Determine what internet package you need
One thing that most people don't realize is that you don't need shockingly fast internet speeds for an ideal streaming experience. If you have one device streaming in high definition, you'll need just 5Mbps (megabits per second) of download speed. With multiple devices, this can go up to 25Mbps.
In one case, this information can improve your streaming experience if you realize you don't currently have fast enough internet speeds for your streaming needs. But, another benefit is you hopefully recognize there's no need to overpay for that blazingly fast download speed, when a fraction of the cost will work just fine. This can save you some serious dough, which you can use to put toward better ways to improve the rest of your setup.
2. Pick the right internet provider
There is no one answer to who the best internet service provider (ISP) is for everyone. The best option varies for each person and can easily change based on your location or the internet speed you decide you need. After figuring out your desired internet speed, you should shop around and compare ISPs.
Sometimes you'll find a great offer from a competitor of your existing ISP, or you can even find a great offer that exactly meets your streaming needs. For example, some ISPs don't offer packages with download speeds as low as 5Mbps. You might find another provider that has the lower package, which can once again save you money that you can spend elsewhere.
3. Get a good router and upgrade it regularly
Wifi in general is usually the key problem in most people's streaming setups. A router is the key tool that will make or break your experience. This isn't the place to skimp because even though your internet speed meets your needs, your router might not be delivering that to your devices.
You should get a solid router and make sure to upgrade it regularly. An upgrade is recommended about every two years. This could either mean you buy your own router and replace it every couple of years or just trade in the router you rent from your ISP for the latest version.
4. Set up your router correctly
Now that you have your router, you need to make sure you set it up properly. You should place the router in the center of your home. This increases the chance your Wifi will reach all of your rooms and minimize the chance of dead zones. Additionally, you should keep your router out in the open and off the floor to reduce any interference.
5. Improve your Wifi with a whole-home Wifi system
A whole-home Wifi system promises the improved Wifi experience the 21st century demands. Instead of having one access point, your purchase gets you multiple devices. You then set up each device throughout the house, which work to extend and amplify your Wifi service. This reduces any chance of dead zones. The market is new, but there are already a bunch of great options.
Whole-home systems work especially great if you have a room where you can never seem to get strong service. It can let you seamlessly stream ESPN in the basement, while someone else is binge-watching a show in the living room. Some of the most popular whole-home Wifi systems are Eero or Google Wifi.
Bonus Tip: Easily mirror your streams to your TV
AirParrot is an incredibly helpful software tool for anyone who likes to stream. This won't impact the speed you'll be able to download your streams, and it'll add a ton of flexibility to your streaming experience. You just need to download AirParrot 2 on your laptop (PC or Mac). Then, you can wirelessly send whatever you're streaming on your computer to your big screen. Stream all of your services in the Firefox or Chrome browser and you can then connect to your Apple TV or Chromecast.
Now you have all the information needed to improve your streaming setup. You're ready for a top-notch streaming experience that'll make all your friends jealous as they sit and watch the buffering icon.