It seemed impossible to do.
Who possessed the chili-making skill that could finally dethrone "the Jons," and take on the Chili Champion title?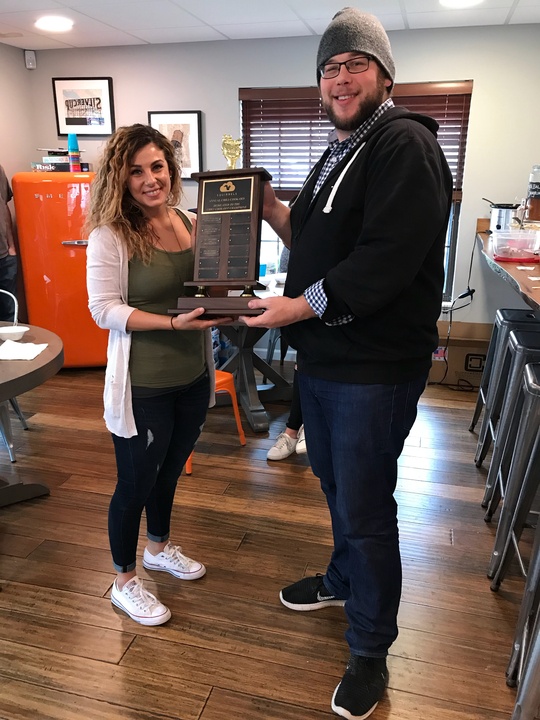 During our fifth annual Squirrels Chili Cook-off, it happened.
Connal Kelly, a Squirrels account executive, came out victorious with her chili, Ezekiel Peppers Direct. This is Connal's first win and her first chili cook-off appearance. Ezekiel Peppers Direct is a simple, yet highly delectable chili with a spicy kick that's sure to satisfy your taste buds. The full recipe is below.
When asked what the secret to her success was, she responded, "There were a lot of ingredients."
Her chili rendition consisted of 27 total ingredients including Bell's Amber Ale, ground beef, Anaheim chilies and Italian sausage.
Here's the complete recipe:
Ezekiel Peppers Direct
3 tablespoons of olive oil
2 tablespoons of butter
4 Anaheim chili peppers, roasted, peeled and diced
4 Poblano chili peppers, roasted, peeled and diced
2 red bell peppers, diced jalapeno chili peppers, minced
2 yellow onions, diced
1 head of garlic, minced
2 pounds ground beef
1 pound bulk Italian sausage
1 pound bulk hot sausage
3 tablespoons chili powder
2 teaspoons cayenne pepper
2 teaspoons ground coriander
2 teaspoons ground cumin
2 teaspoons granulated garlic
2 teaspoons granulated onion
2 teaspoons hot paprika
2 teaspoons salt
2 teaspoons black pepper
2 cups tomato sauce
1 cup tomato paste
12 ounces Bell's Amber Ale
1 cup chicken stock
1 16 ounce can kidney beans
1 16 ounce can pinto beans
2 tablespoons of cornstarch
½ cup water
Instructions
Add the olive oil and butter to a large stockpot over medium high heat.
Add the Anaheim chilies, poblano chilies, red bell peppers, jalapeno chilies and onions, and cook until caramelized, about 10 minutes.
Add the garlic and sauté 1 minute longer. Remove vegetables and set aside.
Add the ground beef and sausage to the stockpot and cook until the meat is browned and cooked through, 7 to 10 minutes.
Add the chili powder, cayenne, coriander, cumin, granulated garlic, granulated onion, paprika, salt and black pepper, and cook for 5 minutes.
Stir in the beer and cook for another 3 minutes.
Add the tomato sauce, tomato paste and stock; cook about 5 minutes.
Add the kidney and pinto beans; lower the heat and simmer, about 2 hours.
After 2 hours if you would like a thicker chili, mix together 2 tablespoons of cornstarch and ½ cup of water in a bowl, combine.
Stir into chili and simmer for another 15 minutes.
Five other members of the Squirrels team also entered their chili into the contest with hopes to get their name engraved on our chili trophy. We couldn't have made this day happen without the rest of the amazing chilies that are all winners in our hearts:
Second Place: El Caribe (Nate Wendell)
Third Place: Coup De Grace (Jon Bishop)
Fourth Place: Bourbon N' Bacon (Becky Shiring)
Fifth Place, tied: Rabbit Food (Mike Bruin) and #NotMyChili (Kyle Gritzan and Jessica Chevalier)
In addition to the delicious chili, we also enjoyed Fireball Sangria, cornbread, pumpkin chocolate chip cookie dough cups, pumpkin trifle and apple crisp.
Note: The Fireball Sangria tied for third place with Coup De Grace. Yeah, it was that good!
If you try out the Ezekiel Peppers Direct recipe, tell us what you think in the comments below! Enjoy!