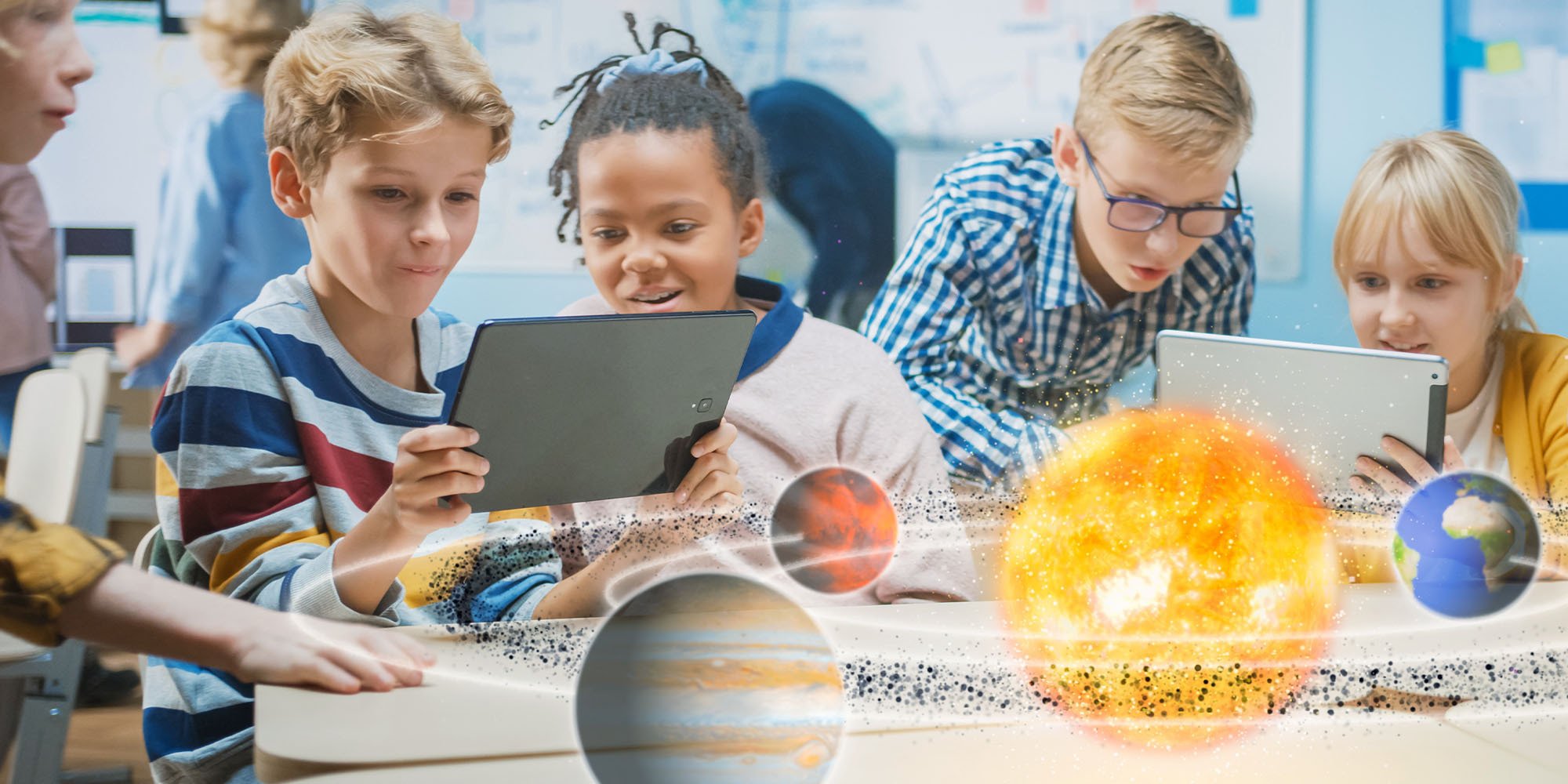 Augmented reality (AR) and virtual reality (VR) create immersive and interactive experiences in the classroom. Students can work with holograms, program and animate virtual environments, explore landscapes and much more. Using AR and VR technology is a great way to keep lessons engaging.
With so many AR and VR apps to choose from, it can be difficult to decide which ones are right for your classroom. That's why your friends here at Squirrels compiled the best AR and VR apps you need to try, along with a few tips to help boost collaboration in the classroom.
Google Expeditions
This is the best app for teachers and students who are new to AR and VR. Google Expeditions uses your phone as a viewfinder to show augmented reality around you. Fly over and explore virtual landscapes, environments and landmarks without leaving the classroom. Learn how to teach AR/VR with Google Expeditions.
Merge Cube/Explorer
Bring the water cycle, ocean ecosystems, archeological digs and more to the palm of your hand with Merge Cube. The Merge Cube is a dense foam cube with a patterned design. When viewed through your device's camera with any of Merge's apps, the Cube transforms into a digital hologram, displaying objects, environments and diagrams in virtual 3D space. Learn how to teach AR/VR with Merge Cube/Explorer.
CoSpaces EDU
With CoSpaces EDU, students can design, program and view AR and VR experiences and insert characters and objects into 360-degree environments. It is a simple, fun and interactive platform for student-generated content. This app is also a great resource for remote learning lessons. Learn how to teach AR/VR with CoSpaces EDU.
FlipgridAR and EyeJack
These apps use QR codes to bring homework, science fairs, open houses and student projects to life. Add videos to newsletters, book reports, art projects and much more with FlipgridAR. Upload GIFs, movie files and music to animate artwork or flyers with EyeJack. Learn how to teach AR/VR with FlipgridAR and EyeJack.
CleverBooks Geometry
Explore 2D and 3D shapes with CleverBooks Geometry. CleverBooks Geometry uses your phone or tablet to transform shapes into 3D objects. Students can understand the properties of geometric shapes, unfold 3D objects and use shapes to visualize fractions. Learn how to teach AR/VR with CleverBooks Geometry.
Reflector Teacher
Wirelessly share your AR and VR experiences to the big screen with Reflector Teacher. Reflector Teacher is an app for your computer. You can wirelessly screen mirror your phone, tablet or another computer straight to this desktop app. While this app doesn't use AR/VR itself, it is the best way to display your AR/VR content in your classroom. Learn more about Reflector Teacher.
There are many ways to include AR and VR in your classroom. Which app will you try?
This  blog  series is  created  by Alpha Squirrel  Christine  Danhoff. An Ohio-based educator and member of the  Alpha Squirrels program, Christine is an ambassador for Squirrels and is an expert on developing creative ways to educate students and other educators with technology.