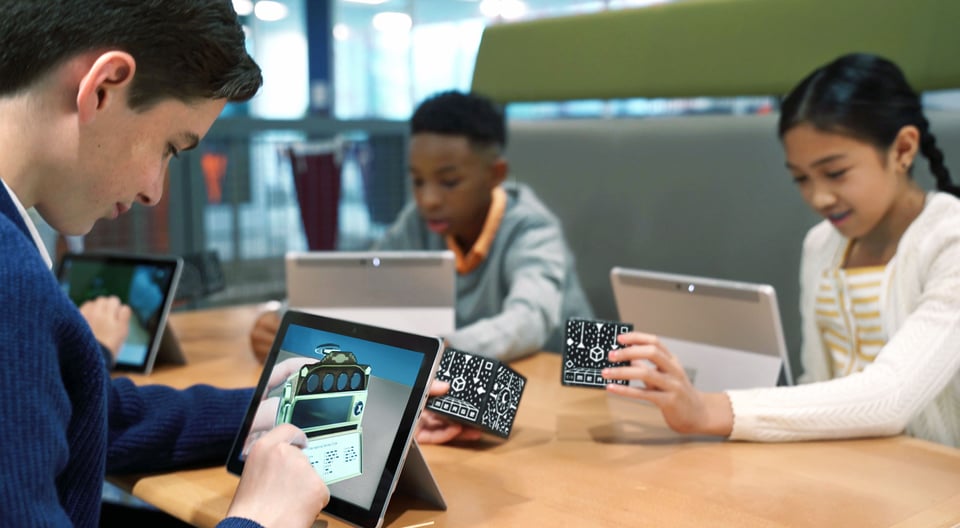 Welcome to part three of a bite-sized series about tools and techniques educators use to teach augmented reality (AR) and virtual reality (VR) in the classroom. Read part two here.
Bring holograms to life in the palm of your hand
Merge Cube is an inventive and tactile way to learn with augmented reality (AR) in the classroom. It's an effective tool because it's a physical, tangible object that springs to life as a hologram when viewed through your phone or tablet. Bring the water cycle, ocean ecosystems, archeological digs and more to the palm of your hand.
The Merge Cube is a dense foam cube with a patterned design. When viewed through your device's camera with any of Merge's apps, the Cube transforms into a digital hologram, displaying objects, environments and diagrams in virtual 3D space.
You can rotate the cube and your device to see the virtual environment your Merge Cube creates in 360 degrees.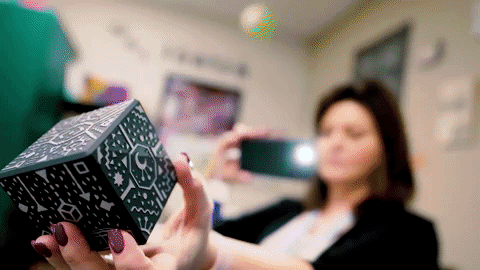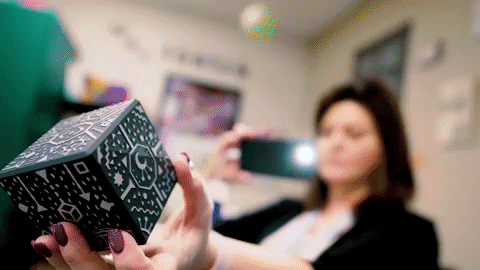 Merge Explorer is the gateway to educational AR
Similar to Google Expeditions, Merge Explorer is the Merge content library app. Merge Explorer has a vast catalog of VR and AR experiences, environments, objects and other interactive content. Divided into topical categories, Merge Explorer helps students investigate science, engineering, art, math and other subjects using the Merge Cube as a visual guide.
How to get started with Merge Cube and Merge Expeditions:
Step 1
Have your Merge Cube handy.
Step 2
Open the Merge Explorer app and select your preferred experience.
Step 3
Tap the play icon and point your device at the Merge Cube.
Step 4
The Merge Cube will now render as a 3D augmented reality object through your device's camera. You can move and rotate the Cube to explore all sides of its contents.
Step 5
Tap the Next button to see your Merge Cube render additional content. The example in this video shows the different states of the water cycle.
Pro Tips:
Use the Stamp tool in the Merge Explorer app to freeze the cube's position in virtual space. You can even duplicate the Merge Cube and create multiple stamped copies to view through your device.
Record video of your Merge Cube directly in the Merge Explorer app by tapping the Record button.
If you need an easy way to share what's on your phone screen to the whole class — like in the video — read part one in this series to learn how to screen mirror with Reflector Teacher.
Stay tuned for part four!
This blog series is created by Alpha Squirrel Christine Danhoff. An Ohio-based educator and member of the Alpha Squirrel program, Christine is an ambassador for Squirrels and is an expert on developing creative ways to educate students and other educators with technology.